Content writing is a process that requires meticulous attention to detail and creativity. And like other processes, the introduction of AI tools can improve or optimize it.
AI content writing tools have advanced to the level that they can generate blog posts and marketing copies instantly. You only need to input a few keywords and watch the software do the magic.
But how does AI-generated content measure up to human-made content?
In this article, I explore AI copywriting tools and how they affect content creation. Continue reading to find out the best AI tools for content writing.
How do AI writing tools work?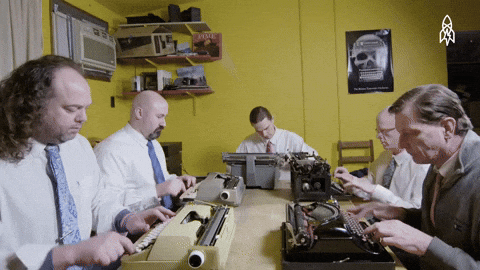 AI technologies rely on natural language processing (NLP) to convert programming language to a 'natural' language that humans can understand.
So when you enter a topic, the NLP algorithm processes the request, generates topic-specific text, and converts it to the content you desire.
At the same time, these NLP algorithms are used in word processors like Google Docs to detect errors. Grammarly and other grammar checkers use the same technology to catch mistakes and suggest changes.
Why use AI tools for writing?
Now that you know how AI writing tools work, let's discuss the advantages of using these tools in your writing.
AI tools save time.
Content writing starts with research, then goes to the writing and editing eventually. For humans, this work can take hours to complete.
But with AI tools, you can generate and evaluate content instantly, which saves you time to focus on other aspects of your business.
AI content writing tools foster creativity.
AI-generated content can boost your creativity as a writer by providing you with templates for your writing.
For writers struggling with writer's block, the content templates can spark your creativity and give you topic ideas.
AI content creation tools improve decision-making processes.
Brainstorming topic ideas with AI tools speeds up the content creation process by aggregating data from different sources. From these insights, you can make informed decisions regarding content direction.
Despite the advantages of using AI writing tools to create content, you should only use AI as an assistant rather than the mainstay.
Disadvantages of using AI tools
Despite the promises of AI-powered content creation, not everything is roses and lilies. AI content writing has several limitations since it is a relatively new technology.
Here are some of the disadvantages of using AI tools to write online content.
AI cannot generate human emotion.
When it comes to emotions, even the best AI content writer is no match for humans. Drafts and content suggestions from AI fail to replicate the personal touch that a human can confer in writing.
You still need a skilled writer to personalize the content to your target audience. Even though Grammarly's AI can detect tone and social appropriateness, it still has a long way to go to understand human emotions.
AI-obtained content is not original.
The NLP algorithm draws content from multiple sources to create a "salad" of articles. Even if the content passes the initial eye test, plagiarism checkers will flag it for low uniqueness scores. 
Although free AI content writing tools like HemingwayApp are now available, you need to subscribe to use advanced tools.
AI writing tools don't care about creativity.
Professional writers excel in their ability to craft content that suits different moods — and this often depends on motivation.
But since AI prioritizes efficiency over creativity, the quality of the generated content or copy suffers.
10 AI tools for content writing
I have gathered a list of free content automation tools and paid AI copywriting tools to help writers provide top-notch content.
1 — Jarvis
Jarvis (formerly Conversion AI) is an AI content writing tool that personalizes your written content.
This writing tool supports 25+ language options, which can help you scale up your marketing globally. Activate the Jarvis Boss Mode to power up your writing speed and quality.
Jarvis Command also uses the auto-complete feature to generate real-time suggestions when you type a sentence.
2— Grammarly
Grammarly is a household name when it comes to AI content writing tools. Although this tool is not a content aggregator, the NLP software helps writers proofread and polish their work. 
With the latest version of Grammarly, you can spot misspellings, unclear antecedents, passive voice usage, incorrect punctuation, and other standard issues that writers face.
You can also check the uniqueness of your content as well as switch between US, UK, and Australian English.
Grammarly is free, but you need to upgrade your subscription to use premium features like plagiarism detection, advanced writing suggestions, and priority email support.
3 — HemingwayApp
Named after Ernest Hemingway, this AI-powered tool used NLP algorithms to improve content readability. 
Type your content into the HemingwayApp word processor and get real-time suggestions to improve the delivery and readability score.
The HemingwayApp is free and helps writers to communicate their ideas clearly.
4 — Wordsmith
Wordsmith is a natural language generation (NLG) platform that aggregates data from multiple sources to craft a cohesive narrative.
This self-service platform allows users to personalize their data dashboards to obtain real-time content alerts. You can also publish your content from any location using the Wordsmith software.
Wordsmith's Business Intelligence integration allows analysts and stakeholders to address data communication issues.
To get the software, request a demo from the company's official site
5 — Articoolo
Articoolo is a software program that creates articles using an NLP engine. The software analyzes the topic and defines the context. Then, the program receives information from several sources, which it recreates into the final draft.
WordPress users can download the Articoolo plugin to generate content for their WP site. You can also integrate the API into native or web-based apps.
Articoolo is obtainable on a pay-per-use basis, with a maximum cost of 100 USD for 100 articles. Alternatively, you can subscribe and get 250 articles for 100 USD.
6 — CopyAI
This AI copywriting tool helps content creators battle writer's block by providing automated brainstorming options.
To use the tool, select the type of copy you want to create: blog intros, headlines, product descriptions, email newsletters, ad copies, etc.
Then enter your company's name and a few key sentences. Voila! You get ten related ideas for your copy.
CopyAI offers a free trial to new users, but you can access other premium features with a subscription.
7 — Ahrefs
SEO is the bedrock of content creation, especially if you want to rank highly in Google search results. And keywords are the most potent driving forces in SEO.
Essentially, Ahrefs allows you to optimize your content for search results. You can use multiple tools on this platform to monitor your ranking, explore content opportunities, and analyze competitors.
This AI-powered SEO writing tool is quite pricey but worth every penny.
8 — WordTune
WordTune is similar to the HemingwayApp in that it fine-tunes your grammar. After drafting the final copy, the WordTune AI evaluates the text and highlights areas for improvement.
Add the free Google Chrome extension to help you polish your copy across the web.
WordTune is free if you want to rewrite short text fragments. If you want to get advanced features like sentence adjustments, you need to buy the Premium plan for 9.99 USD monthly.
9 — CopySmith
This AI-powered writing tool allows you to scale your marketing content to your preference. CopySmith provides copy that generates multiple leads at a fast pace.
You can use multiple ready-to-go templates for content rewriting, blog ideas, and product descriptions.
Whether you are a freelancer or part of a marketing team, CopySmith is the right platform for your content creation workflow. Check the pricing and choose the plan that suits your budget.
10 — Rytr
Rytr is an AI-powered writing assistant that helps writers to create top-notch content in a short time.
To use the Rytr tool, you must choose a use case and the preferred language (from 30+ available options). Afterward, enter the topic and provide context. Then, the AI generates a customizable text.
Final words
As it stands, several AI critics believe that this technology will replace humans. That may be the case in the future, but for now, AI tools are only here to assist humans. You can use AI-powered tools to create, analyze, brainstorm, customize, and proofread content.
Use the tools in this article to improve your content and save yourself time and money in the process.